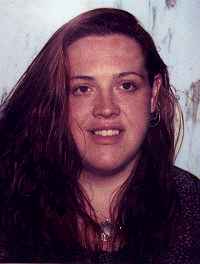 Here I am .... Kriss, age... 31, born a Leo...
Name used on List: Kriss or Lady Kriss

Private Email address: kmorton@n-link.com
Web-Page addresses: Oh my now.... well there is this one! My home page... hosted on Witchhaven!! One Thread Within and this one... Arache's Weavng the Web and also my site for the list that I am a list owner for...Occult Haven

When I joined this list: I believe it was in the beginning of October…. but you know how the pregnant brain works!

Location on the earth: Copperas Cove, TX, formally amidst my tall tall trees in the Washington, Peninsula northwest area... oh how I miss my trees!!!

I have three lovely Demon Spawn …. Ooops I mean Children, whom I adore. (that's Amanda & Jojo on the right) They are my life at the mement and SUCH a joy! My husband and I are expection our first baby together, and he is SO hyped! We do not know the sex of the baby, and will be so surprised when he or she comes! I am due Dec 27th and cannot wait!
My husband and I met here online well ::giggling:: on AOHell, and after 6 months of talking decided to move in together. I moved to Texas and from July 97 to January 9th were living in sin as domestic partners... but I digress. We decided to do the legal thing and are now legal as of January 9th, blissfully happy and always seem to be smiling.
I find life and living it is magickal in and of itself. Even the way I pour Cheerios in the mornings for my children is magick to me, for I am giving health and vitality to them. She shines through in every aspect that I live… 24 hours a day, 7 days a week. :::Smiling and bouncing gently in her chair.:: So Merry Meet to all!!
Blessings and Light and Love to all!
Kriss Weekley and clan!!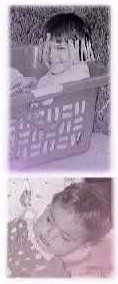 These are my two girls Amanda 5 and Josephine (we call her JoJo) Amanda is in Kindergarten and Josephine is enraptured with the Teletubbies at the moment. I do not have any pictures of my 10 year boy Nathan scanned.